- Advertisement -
Help Us Help Wildlife By Shopping Via Amazon
! Concerned about privacy? Read our Site Privacy Policy.
Flying Squirrels Spotted in Oregon Page 1
Though very rare there have been flying squirrels spotted in Oregon not too far from Portland International Airport. At first thought to be U.F.Os they were later discovered as U.F.S. (unidentified flying squirrels). They also have their own secret airport and tower complete with a three foot landing strip. Below you will see some top secret photos of their operation. The U. S. S. A. F., United States Squirrel Air Force, has been training for months on how to steal Saddams nuts but recently discovered he has none.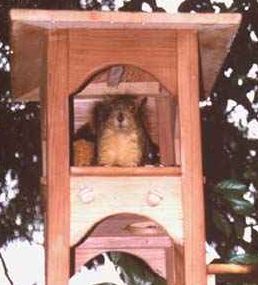 This was his first day at attempting to assist the newly trained flying squirrel in landing. The first one that attempted over shot the runway and crashed into Squirrely's Bar. He was so shook up, he decided not to try it again today and got drunk since he was already there.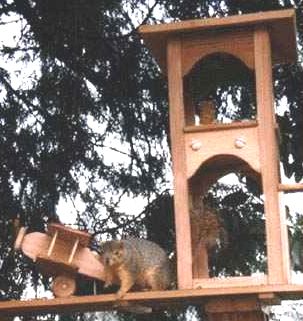 This is Snoopy, he has prior experience. This will be his second attempt since repairs to the plane from last week. Here he is checking out the plane after hitting the bar. We're hoping he doesnít crash into the outhouse next time as itís not down wind at this time of year.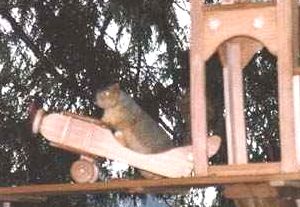 Hereís Snoopy looking down the runway prior to take off and figuring out his flight plan. Heís getting smarter everytime he tries. He managed to miss the outhouse last time, but took out one tree and part of my fence. I donít know how long he will keep trying, probaly till I run out of wood.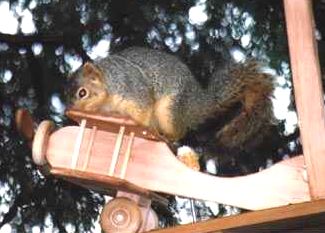 Amelia Squirrelhart
Here's Amelia, who was spotted at Squirrelys International Airport. She has been commissioned to give flying lessons to the other squirrels as the last few days have resulted in three crashes. First the bar, then my fence and yesterday they dive bomb the neighbors cat resulting in another one. Here sheís taking a good look at the propeller making sure it was repaired right and they have gotten all the cat hair out of it.
Back to Squirrelys main page to see more of Bill's photos

- Advertisement -
Information and photographs, © Copyright 1999 Bill Cooper